Interactive map
An interactive map of Arillas from an aerial picture that I took from a flight above my home which was organised for this particular purpouse. You can zoom in and out clicking the - + buttons.  You can also move to the right-left, up and down by clicking the arrows.
Tourist Map
Arillas Tourist map created by an arillas regular visitor and forum member (justl@@kin) providing all the information you need about shops, accommodation and amenities.
Print a Map
The first official map of Arillas in printed version is now available for you to print before you come to your destination. It contains all points of interest,like Hotels, tavernas, bars, cafes, shops, as well as walking paths and shortcuts to the next areas. The map was initially created by a small team of our Business association in order to be posted in central crossroads of the resort. The map you
will find here
is in
pdf format
which can easily be downloaded and printed.
Walker's Map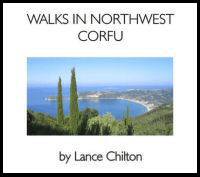 Twelve walks exploring the lush hills and beautiful green countryside around these beach resorts situated on the NW coast of Corfu, including routes around the villages of Afionas,
Agios Georgios North
(Agios Georgios Pagon),
Agios Stefanos
,
Arillas
, Armenades, Kavadades, Krini, Lakones, Magoulades, Makrades, Pagi, Paleokastritsa, Prinylas and Vistonas, to the pretty bays at Porto Timoni and to the spectacular ruins of the Norman castle of Angelokastro. In spring, watch
fireflies
dancing over the streams at night.
Large-scale sketch maps of the villages Afionas, Agios Stefanos, Arillas, Armenades, Kavadades, Krini, Makrades, Pagi, Prinilas, and Vistonas are included within the text.
Accompanied by an A2 colour walkers'
map
of the Agios Stefanos-Arillas-Agios Georgios-Angelokastro area, at a scale of 6cm: 1km.
Stephan's Corfu Map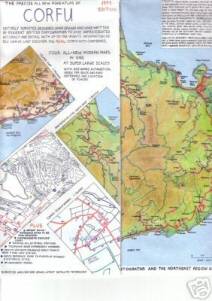 A hand drawn map by another friend of our island
This hand drawn map of Corfu was conceived in 1993 and completed in 1997. It covers the whole of the island in great detail, and in addition to a super large scale detailed map of the area around Mount Pantokrator, there are large scale maps of Corfu Town and Kanoni. I lived in the resort of Nissaki and wintered in Loutses, but one of my favourite resorts was Arillas and the surrounding area. It was very frustrating finding this picturesque village with the existing maps – none of them showed the routes correctly, and I, as well as many holidaymakers ended up going round in circles. Finding this, and other places easily and clearly was the spur to me to create a definitive map of Corfu. In 2008, it remains the best road and track guide to this beautiful island, and has gained a cult status with aficionados and lovers of Corfu. I have so many letters of praise from people telling me how effortlessly they are able to navigate the sometimes badly signed roads with ease, that I know for certain that it is still an essential companion for anyone who wants to discover the whole of Corfu, or just find their way easily to such gems as Arillas, even more than ten years after it was first published. A number of minor roads shown as unsurfaced or gravel have now been tarmaced, and several resorts have seen expansion and development, but overall, the map remains a true reflection of the island's network. I even have testimonials from several taxi drivers! What better recommendation than that for a map!